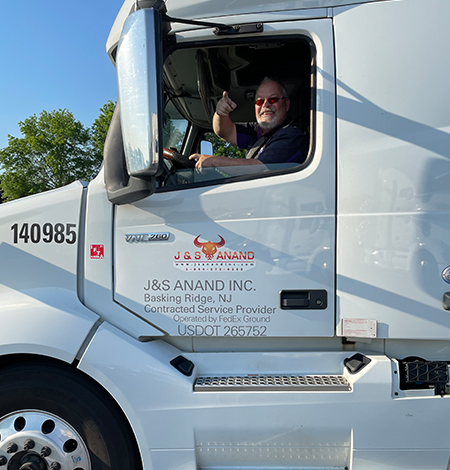 J & S Anand Incorporated started its journey in the logistics industry with one truck, one driver, and a mission to improve supply chain management for all its customers. Over years, we grew into one of the most active commercial transportation service providers in Pennsylvania and New Jersey.
Today, we offer drop & hook solutions to some of the leading American brands in online and traditional retail sector. In addition, we serve FedEx Ground, helping the company streamline its shipping solutions for businesses across a range of industries. J&S Anand Inc. is known for creating optimum customer experience with such services. J & S Anand Inc has also won numerous FedEx Ground Entrepreneur of the Year awards throughout the years.
As a responsible transportation company helping businesses move a variety of high-value products, J & S Anand Inc maintains its fleet optimally with regular servicing. All vehicles are carefully inspected before they start their journey for a pickup or trailer delivery.
We also take special care of employee wellness and offer our drivers the best of compensation packages along with medical, dental, and vision treatment benefits. The truck driving duties are equitably distributed to ensure that no one is overburdened with tasks. And we actively invite new members into our family to keep serving our customers with true diligence.
Discipline, Integrity, Accountability, Honesty, Teamwork, and Respect for Others are the hallmarks of our company values. These help us to strengthen our brand equity and build an ethical work environment.
If you look forward to working with people who support economic utilities of place and time, do not hesitate to contact J & S Anand Inc. for truck driving job opportunities.
Allentown, PA

961 Marcon BLVD Suite 410 Allentown, PA 18109
Manchester, PA

670 Cassel road Manchester, PA 17345
LEHI Hub

1000 willowbrook rd Northampton PA 18067
HRBG Hub

510 industrial dr Lewisberry, PA 17339
Click the apply now icon to see what opportunities are available in your area!
Valid and current Class A CDL.
Minimum 1 year of verifiable tractor trailer experience.
Ability to meet all DOT requirements.
Benefits Package (Medical, Vision, Dental, 401(k), Life Insurance (After 90 days)
Paid Holiday and Vacation Time Off
Training with Doubles Endorsement
Newer (dedicated) trucks
Driver referral bonus! Refer a friend and get paid!
Local job site deliveries
Dependable/driver focused dispatch
Variety of schedules available
Weekly Home Time